Laptops
Ni No Kuni: Cross Worlds, Impressions. The saga makes the leap to the MMORPG
the wonderful world of ni no kuni originally created for Nintendo DS and later versioned for different platforms, and even with a kind of sequel, it reaches mobile devices and computers in a genre that no one expected. Ni No Kuni: Cross Worlds borrows the best from the Level-5 and Studio Ghibli saga —but without the latter— to bring the adventure to the online MMORPG arena.
With the help of NetMarble, the video game is now available on Android, iOS and Windows computers in format gratuitous, so any player can enjoy it without complications. It also has a translation into Spanish.
what we all expected
Ni No Kuni: The Wrath of the White Witch was an RPG title released for Nintendo DS in Japan and later versioned for PlayStation 3 that we could fully enjoy in Spanish in our country. Level-5, the study behind White Knight Chroniclesthe Professor Layton saga or the Yokai Watch video games, partnered with Studio Ghibli to create an adventure that left no one indifferent.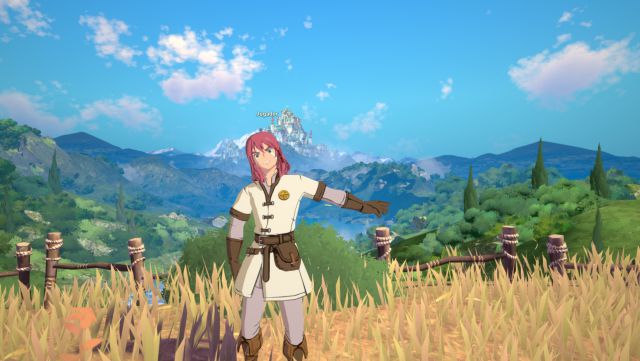 The cell-shading technique that was applied to the video game made it look like an animated series, and its music, by the legendary Joe Hisaishi, gave the product more packaging. Not to mention its history, with Ghibli tints and humor like in no other game of the genre. Its remastered version for PS4 and PC did nothing but enlarge the technical section of the video game. The success of the first part led Level-5 to develop an iteration that, without the help of Studio Ghibli, garnered less criticism than the original, although it was still a more than reliable RPG when it came to recommending it to players.
What nobody saw coming – although it makes some sense according to the history of both chapters – is that the saga made the leap to the MMORPG field with Cross Worlds, a title that was launched last week and that many fans of the brand expected. We have been able to test it both in Android and iOS mobile devices as well as on a computer and it is just what was expected, although all that glitters is not gold.
In Ni No Kuni: Cross Worlds we have the possibility of taking the role of one of the five protagonists, each versed in different combat techniques. The story tells us that we arrived in the world of Ni No Kuni through a portal that connects our real world with the video game world and that, in addition, we have a task to carry out.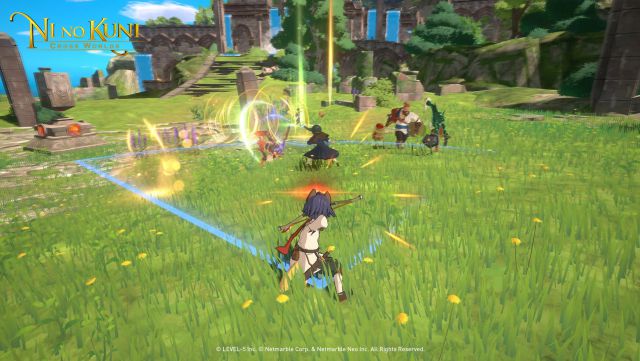 Obviously, the art, humor and most of the features of the two main installments are found in Cross Worlds, so it is a very positive starting point when entering this MMORPG. Everything we see on the screen is enhanced thanks to Unreal Engine and the truth is that it looks spectacular on both mobile phones and computers, with the possibility of configuring all the graphic sections that affect performance more or less well.
The story, completely in Spanish, is not bad at all for a free court game and we can even meet characters and together acquaintances. During the adventure one of these beings accompanies us, as happened in the first two titles, and also spends the same humor -both good and bad- as the co-protagonist of The Wrath of the White Witch.
Its free nature means that we can enjoy it without scratching our pockets, but obviously, if we want to progress comfortably, we will have to invest time or money in it. Like Genshin Impact there is a strong gacha component related to unimo. Or what is the same, we can get hold of more of these critters by pocketing in the game store and, praying everything we know, to get one of decent quality. However, it does not seem to be too demanding in this regard because during our impressions we have achieved several of a good level without the need to invest money. It will be necessary to investigate more during the course of time.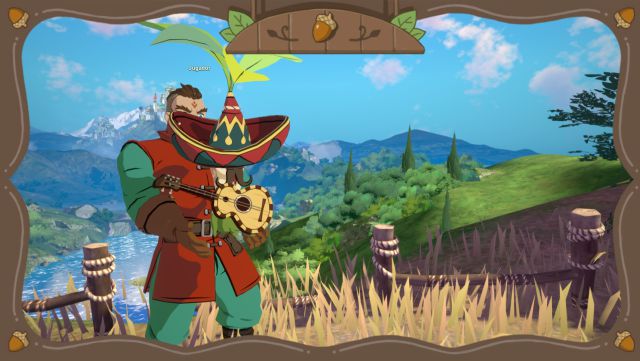 As in the original, we have a main mission to follow and many other secondary ones with the sole purpose of improving our reputation or improving our character. They are simple missions that do not require too much time and that are mostly pleasant to complete thanks to the humor that they have printed in each and every one of them. Y so far the good from Ni No Kuni: Cross Worlds.
what no one wanted
Although the packaging more than complies -story, graphics, staging and music-, the gameplay is a disaster. Everything, literally everything, is automated to extreme levels. It is an option available in most titles of the genre for mobile devices but configurable so you don't have to depend on it. In Ni No Kuni: Cross Worlds, everything is designed so that the player does not disable it, and in fact, most options cannot be disabled. In the case of missions, we can deactivate the character walking alone to the position indicated by a mission, but as soon as the next task is taken, it will be activated again.
Exactly the same thing happens in battles and there is even a configuration in which we can only select from what distance the character fights only for you. It doesn't matter if we get new skills and these can be executed manually, because the machine will do it for you anyway. Although here, at least, it is appreciated.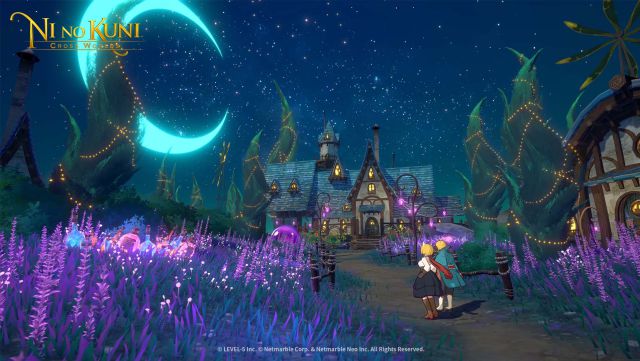 The theme of the automation It affects the gameplay so much that if we temporarily do without it in the missions, the place we must go after accepting a mission will hardly be distinguished on the main map. This is solved by activating the automation, so we will have to remain passive for the game to do everything for you. The opposite happens in combat. It cannot be deactivated but it is recommended because the control is disastrous. Hitting the enemy with the character's variety of attacks is like hitting a ten-number lottery.
Mobile control does not present any type of problem, it is intuitive, accessible and comfortable. However the PC version, which in theory is in beta state, is the biggest fudge that has been seen in years. Keyboard customization doesn't exist and each skill is mapped to a key that doesn't make any sense. For example, we cannot attack with the mouse buttons, we must do it with the V key, which is not very accessible for WASD and mouse controls. There are also too many touchscreen interactions that haven't been customized on PC, so you have to pull the mouse most of the time.
Another problem, and big, is that it is not compatible with controls —not even on mobiles— and the solutions that some users have contributed for PC do not collect all the controls of the game. This means that whatever solution fans may come up with to this problem requires a keyboard, mouse, and controller combo, making it an unsatisfying MMORPG to play.
We can create five different characters, or what is the same, all the classes available in the game, but in order to play on PC, we first have to download the mobile version to create the account and our first character there. If your mobile is not compatible, does not have enough space to download the title or you do not have one at hand, you can't play on PC.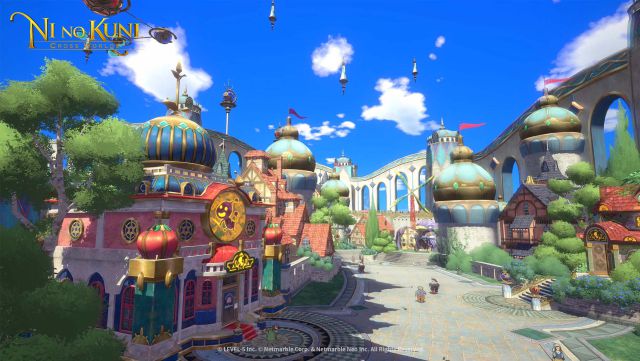 It also doesn't help that most of its economy is based on two currencies called Territe and Asterite, which are nonetheless cryptocurrencies or virtual tokens. They are achieved by completing activities or buying them from players both inside and outside the game, on a platform specialized in cryptocurrencies. If we add to this what are they going to add NFT objects in a later update, the future is not at all warm.
In short, Ni No Kuni: Cross Worlds is an interesting video game, with a lot of content related to clan housing, activities for unimos, dungeons, and everything usual in this genre, but only if you intend to play it on mobile phones or tablets. The PC version right now is not recommended at all and even so the main one, the one dedicated to mobile devices, has to deal with a wide variety of problems like the ones we have discussed above.
Its complete automation makes it more of a visual novel game than an action game as it is supposedly sold. There is hardly any room for interaction and your progress through the stages and levels is extremely fast, even with automatic control disabled. There is not much enjoyment beyond reading the stories that its characters tell us and PvP requires investment in cryptocurrencies to stand out from the rest. a pity