Laptops
New TUF Gaming F15 2022 arrives in Mexico
ASUS announced the arrival in Mexico of the new TUF Gaming F15 laptopequipped with Windows 11 and powered by the latest 12th Generation Intel Core i7 Processor.
This laptop is based on the basic principle of offering gamers a fantastic performance that suits your needs, so this new laptop continues to offer hardware high-end, paired with a more refined chassis design than previous models. Know all its features and go for it!
Maybe you are interested…

Dying Light: Definitive Edition comes to PC | PandaAncha.mx

www.pandaancha.mx

read article
TUF Gaming F15 2022
To the surprise of many, this 2022, TUF Gaming F15 has been refreshed with a completely new design, including a new MUX Switch, which offers gamers greater GPU performance. Therefore, we can say that it is a thin and light device with a power that belies its size.
New hardware and characteristics
2022 ASUS TUF Gaming F15 leads this year's lineup with 12th Gen Intel Core i7 Processor and NVIDIA GeForce RTX 3070 GPU with a maximum TGP of 140W.
Like all the laptops in its range, this 2022, the TUF Gaming F15 laptop incorporates a MUX Switch for hardware. Many gaming laptops today route their GPU frames through the CPU's integrated graphics before reaching the display, offering longer battery life, but preventing the GPU from delivering its best performance.
The latest TUF Gaming F15 laptop allows gamers to open the software Armory Crate and switch to a direct GPU mode that reduces latency and increases performance by 5-10% on average.
The hardware High performance demands superior cooling. As part of our cooling system, the Arc Flow Fans have an 84-blade design, each of which has a different thickness.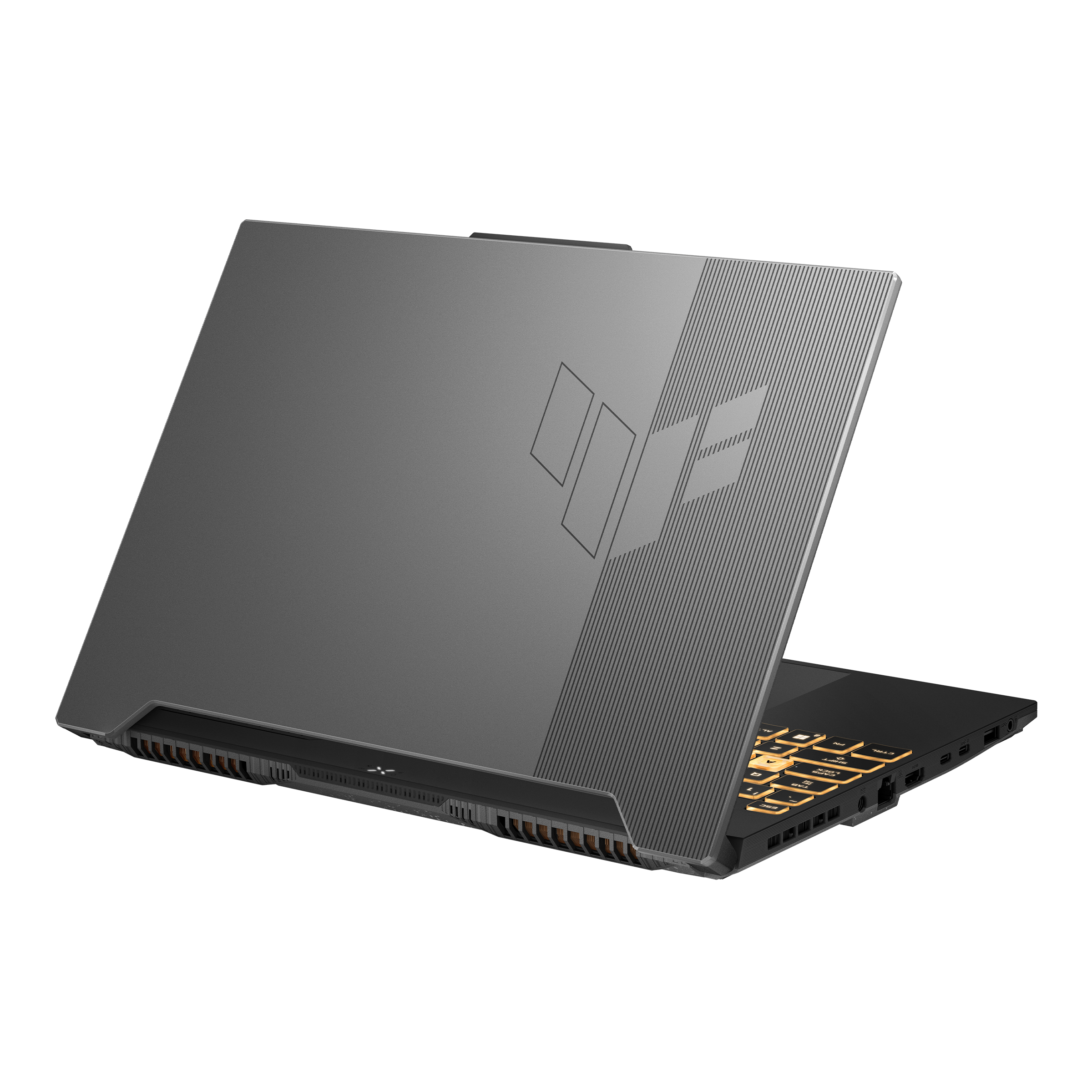 By adjusting the thickness to as little as 0.1mm at the tip of the blade, turbulence is reduced and overall airflow is improved. Despite being quieter than last year's design, these fans have up to 13% more airflow than their predecessor to keep your TUF Gaming F15 laptop cool.
Fast-paced games also require high-refresh-rate displays, which allow in-game motion to appear much more fluid, so gamers They can track enemies accurately.
The TUF Gaming F15 2022 laptop is equipped with high-refresh rate display options, including FHD 300Hz, with anime-inspired accents, for fast-paced competitive shooters that will enable quick response in battle royale games. Undoubtedly, all players expect very fluid images.
reimagined design
The TUF Gaming F15 has received an updated design for 2022, inspired by mecha anime. Subtle nods to the power and craftsmanship of this machine can be found on the chassis of this laptop, like the new laser-sculpted logo on this Jaeger Gray version.
Like the robots it's inspired by, the TUF Gaming F15 laptop embodies the spirit of toughness. This rugged PC is MIL-STD-810H compliant and has been tested to withstand intense heat, cold, humidity and vibration, and is more than capable of withstanding the accidental knocks and bumps of everyday life.
Specs:
With Windows 11 Home that provides easy-to-use tools that optimize screen space and maximize productivity.

powered by the new 12th generation Intel® Core i7 processor that allows you to perform multiple tasks with great fluidity and performance.

Ultra fast 300Hz FHD display for quick response in Battle Royale games.

Fast NVIDIA GeForce RTX 3070 graphicsideal for AAA games, and MUX Switch + Optimus switch.

512GB of storage solid state

8GB RAMexpandable up to 32GB.

HD webcam built-in 720p for video calls and online classes.

Laptop, yet durable thanks to its military-grade certification.

RGB backlit keyboard to be able to play or study at any time of the day.

Software DTS that gives enhanced audio, distortion-free volume and deeper bass.

Ports: 1x RJ45 LAN, 1x Thunderbolt 4 support DisplayPort, 1x USB 3.2 Gen 2 Type C support DisplayPort, G-SYNC 2x USB 3.2 Gen 1 Type , 1x 3.5mm Combo Audio Jack.
Availability
do you want her ASUS TUF Gaming F15 2022 is now available on Amazon, Palacio de Hierro and Liverpool.
Images via ASUS