Smartphones
E-commerce: what are users looking for and what are their motivations when buying
With the coronavirus pandemic growth accelerated of electronic commerce around the world and two and a half years later, its development seems to find no limits. Digital shopping has transformed to suit the needs of shoppers in different places, and Argentina seems to be no exception.
online shoppers cannot be categorized or described by stereotypes. The "old" users of electronic commerce have already matured and the "new" add up much younger demographics and more older adults.
The information comes from a worldwide study carried out by kantar titled "e-commerce ON 2022", which reveals how people use e-commerce worldwide, what they expect when buyingtheir motivations for doing so and preferred devices by netizens.
What are buyers looking for?
Worldwide, according to the survey, price related issuesincluding promotions and low-cost or no-cost deliverythey still are the main drivers of the election of online retailers. And this is reinforced by inflation and uncertainty economic.
Argentina is the country where e-commerce grew the most worldwide
beyond the price, what motivates the buyer varies by country. In the United States and Japan, for example, online shoppers prioritize product variety and brands, while in the United Kingdom and Brazil cThey consider the quality of the product to be more important.
Compared to other nations, the benefits of membership are valuable to online shoppers in Korea and the UK, where major retailers have successfully established their points programs. In Argentina, promotions occupy a fundamental place.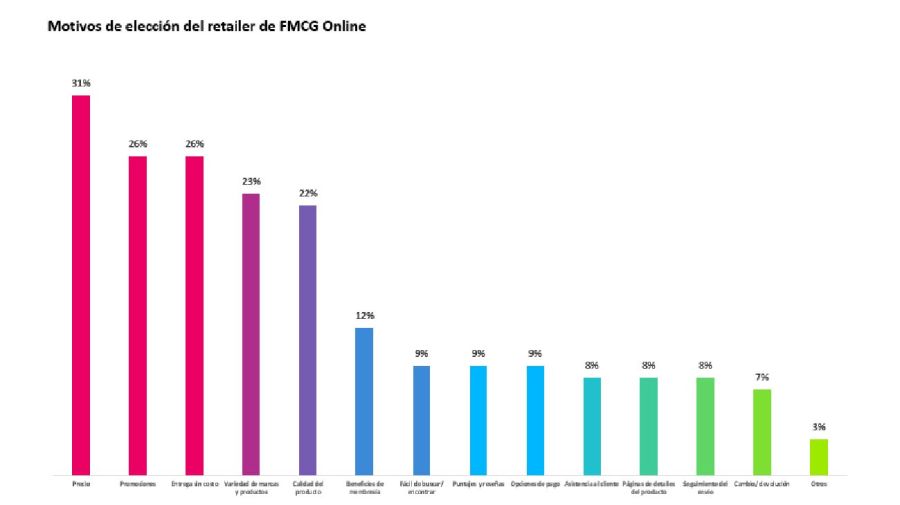 To stay competitive and succeed in e-commerce, avoid price wars, brands and retailers must address buyers' priorities by category and pay attention to other values ​​that buyers look for in different countries.
There is no typical buyer in e-commerce
In advanced e-commerce markets like Japan and South Korea, online shoppers are older than in other Asian countries, where a much higher proportion of online shoppers are in their 20s and 30s. In the case of Argentina, more than half of buyers are between 25 and 44 years old.
Which devices do users choose to make purchases?
Gradually, smartphones are becoming the device of choice for online shopping. From the first measurement of the report you make Kantar in 2019in the pre-pandemic, the use of smartphones for purchases increased 13% globally, reaching 58% of online purchases via mobile vs. 40% who do it through the computer.
Although this varies greatly by country, 77% of online purchases in Japan are executed through the computer, in Indonesia it only accounts for 7%. In the Middle East, Southeast Asia and India, a leadership of the cell phone is observed; in Europe the purchase tool is the PC.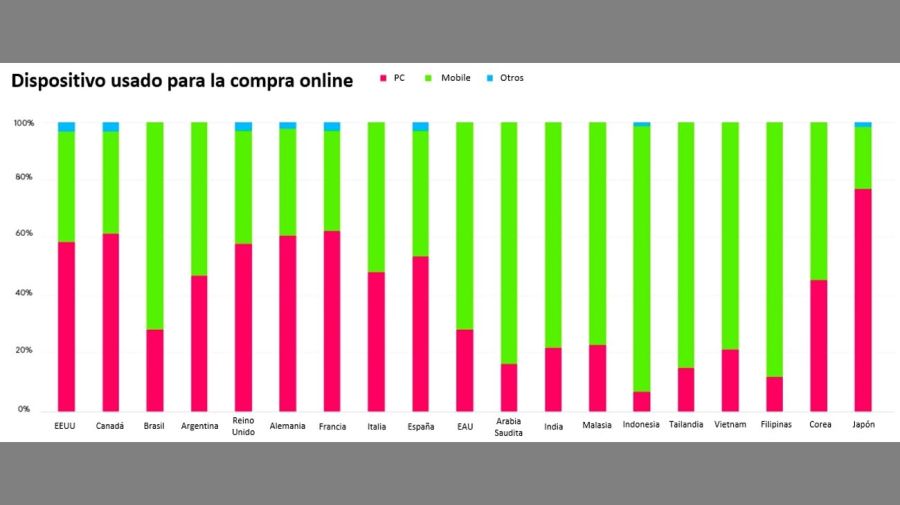 In summary, the younger the buyer, the more likely they are to buy via smartphone. In Argentina, cell phone use is similar to the world average, that is, used by more than half of buyers online.
"For any brand or category, understanding who your online shopper is and what their motivations are will provide the foundation for a successful e-commerce marketing strategy," he said. Eugenia Ardura, Director of Brand & Commerce at Kantar. "This study shows us that we cannot assume that even neighboring countries will have the same digital shopping needs and behaviors."
Where are the opportunities?
The study drew information from more than 69,000 online purchases to explore how shoppers access different categories and online products. Globally, 48% of digital purchases of electronics are for replace or upgrade the ones you already haven. Again, we see large differences by market, reaching 60% or more in the US, Canada, UK, France, Korea, and Japan, while the United Arab Emirates, Saudi Arabia, and India rank below average.
What are the trends in e-commerce for 2022
In the case of Argentinathe purchase for replacement or update is located very close to the large markets with 54%, while in Brazil it is 43%.
"All over the world, 60% of online purchases of mass consumption products involved the purchase of more than one category of products", he pointed juliet dejean, CX and Commerce leader at KANTAR. "In countries with high e-commerce penetration, such as the UK and Korea, multi-category purchases amount to 68%. The same case occurs in Argentinawhere it reaches 66% of purchases of mass consumption products".
SE / LR