Laptops
Comparing Xbox to Gaming PC
A new generation Xbox goes on sale and the classic controversy opens: which one is more convenient? Xbox or PC? The Xbox Series X is the leader in the latest line of Microsoft-branded game consoles, so the debate is open.
Especially, because it is not easy at the moment to find one for purchase, given that it was launched a year ago and perhaps when reading this note it is already too late to be able to have one, so it is advisable to remain attentive to the offers that the market has.
Differences to choose between Xbox and PC
The purpose of this note is to offer a guide to take into account, but you must consider some things
The market value of Xbox Series X consoles and PC components may change depending on time and country.

Getting both the console and the graphics card for the PC can be tricky at times, depending on the stock available.
Xbox Series X vs Gaming PC: Which is better?
Both the Xbox and the PC gamer have a lot to offer you, but if we compare them, which is better of the two? Let's see then those key factors to consider to make a decision for one or another console.
Variety of Xbox and PC games
The price and variety of games in stock for each console must be taken into account when choosing.
Xbox Game Pass provides the basic subscription for PC and there is also an additional subscription to EA Play. To play EA titles on your Xbox console, you'll need to choose Ultimate Game Pass.
Xbox Game Pass has games and bonuses for purchases, which are still valuable with the advantage for PC subscribers.
In turn, this restricts you to the Xbox (or Microsoft) store when using Xbox.
With a gaming computer, there are a wide variety of gaming sites like Steam and Epic Games, which have huge amounts of regular and free games.
Xbox and PC Features
Xbox Series X has an 8-core AMD Zen 2 processor with AMD RDNA 2 GPU, which delivers 52 compute units.
Xbox Series X is equivalent to a Ryzen 7 3700X desktop processor combined with Radeon RX 6800 or Nvidia RTX 3070. Enough graphics to run 4K and 120 FPS.
Depending on the game you play, the full 4K gaming experience with 120 frames for all games will not always be possible.
It may be that a gaming PC with that specification is also not enough for a full 4K game. NVIDIA's DLSS or AMD's super resolution Fidelity FX are good alternatives. You can also explore better on the console for optimal performance.
However, if you have a high-end gaming PC, it's easier to experiment.
Market value of Xbox and PC
Building a high-end gaming PC is really an expensive undertaking. When each selected component is of the latest generation, there is no price limit. You can also buy a ~$700 PC case just for aesthetics.
A detailed consultation is preferable so as not to spend too much. You can choose to buy a pre-built gaming system from NZXT or others, but it is limited to the US Canada.
The Xbox Series X is cheaper, there is no problem getting it. In addition to the fact that it has nothing to envy a gaming PC in terms of capacity.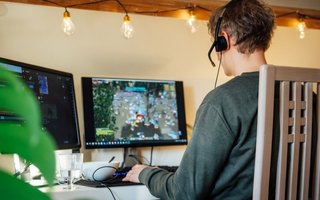 Xbox and PC Gaming Upgrade
It is important to be clear, if the idea is to update your system after a few years or buy a new one.
A gaming PC in Peru can easily update it, along with any component. An example, if the performance is not met after some time, you can upgrade the graphics card and keep the rest as is.
The update is limited in the case of the Xbox. You can only upgrade the storage space, not the chip and not the card. So if it's the case with a console, you'll have to get a new (next-gen) Xbox. But upgrading your PC saves you money over the years.
Xbox portability and PC gamer
In terms of portability, a gaming PC is not as flexible as an Xbox.
You may be able to build a mini-ITX gaming system just like the laptop, although it's a challenging task.
When it comes to a gaming desktop PC, you have to be careful about the cooling and components it uses. An inefficient system could remain if you don't use the corresponding ones.
Of course, in the quest for greater portability, a high-end laptop will surely beat the Xbox, but it doesn't have the upgrade options of a desktop PC.
When considering a PC, you already have a variety of portability options, but a console is already portable from the moment of purchase.
Xbox and PC warranty and after-sales service
The Xbox Series X has a one-year limited warranty, which can be extended up to three years, but there is a possibility that it will not be available at retailers.
It's different on PC as each component you buy is warranted separately. A warranty period of up to three years is usually offered and some can go as long as five or ten years. Fundamental reasons in terms of safety and longevity.
Sure, the Xbox Series X may not be shut down for years (for the most part), but it's safe to say that for the components of a PC, you'll find a replacement.
What should you do? Xbox Series X or Gaming PC?
If the intention is to play with 4K support and choose the provision of a console, Xbox Series S is an excellent choice.
On the other hand, when it comes to variety of games, configuration, updating and multimedia support, you will definitely have to choose a PC.
Both have their particularities, the final choice is up to the buyer: you.