Educations
Begoña Gómez launches another master's degree in which she will teach how to raise funds like the ones her husband distributes
Begona Gomez is promoting a new edition of his master at the Complutense University of Madrid (UCM) in which he will instruct his students on how to raise funds like the ones your husband distributesPedro Sánchez, President of the Government and owner of the key to the Next Generation funds from the European Union (EU).
Again, the first lady of Spain take advantage of the knowledge that she has thanks to her husband presiding over the Council of Ministers to do business. He uses the knowledge of his privileged position in the executive power to get students for his master's degree on Fundraising – Fundraising that he teaches at the UCM.
In a new video to which OKDIARIO has had access, Begoña Gómez appears explaining the news of this master's degree that has already accumulated 10 editions. Hello, my name is Begoña Gómez and I am the director of the Competitive Social Transformation chair and I would like to introduce you to the only university degree postgraduate course in public and private fundraising management for non-profit organisations", I begin by explaining. It is noteworthy that it is presented as director when the Complutense, after investigating that the chairs could only be led by a professor, assured that it was going to start a director above her.
"After 10 face-to-face editions, we have taken the step to bring the degree to the widest possible audience. We present two new formats: a hybrid or blended format for students who can move in a physical and digital space and a second 100% online format. In recent years this modality has been highly requested by all those who wanted to receive this training and who could not do it, either due to time or distance, "adds Begoña Gómez.
«It is an edition that allows us reach a Latin American market that will make it possible to generate new alliances. If you want to be a professional in Fundraising, this is the momentWe will wait for you!", concludes the tenant of the Palacio de La Moncloa.
The wife of the President of the Government, as announced by OKDIARIO, has been the director of a chair since November 2020, despite the fact that she does not have official training, from which drive multiple titles. Among them, the fundraising master's degree that is now being promoted in a new edition.
€2,800
The course is held at a cost of €2,800 and 15 places available. It involves 624 hours of training on Fridays from four to eight in the afternoon and on Saturdays from ten to two in the morning. The program, which already has its prescription period open, is taught from October to June. It consists of six modules and is "eminently practical", as its presentation says. The University said that «due to the evolution of the Third Sector this specialization is increasingly in demand in the market that requires public-private partnerships for the development of projects of a social nature in different sectors».
"In the labor market, there is a need for people capable of design strategies and implement themto implement effective recruitment techniques and be capable of managing people, leading teams and developing skills", they highlight.
In this way, Gómez directs degrees at the public university despite having fewer degrees than his students. Sánchez's wife does not have an official university degree, but despite thistheir students are required to have a bachelor's degree that officially endorses their training as university students.
No title
The first lady presented as a bachelor's degree an unofficial degree in Marketing from the Higher School of Marketing and Business. It's actually from a title non-university, not approved and, therefore, not official. It is striking that it did not require having the Selectivity approved. The school was a private center, in Madrid, which closed and which functioned as an academy.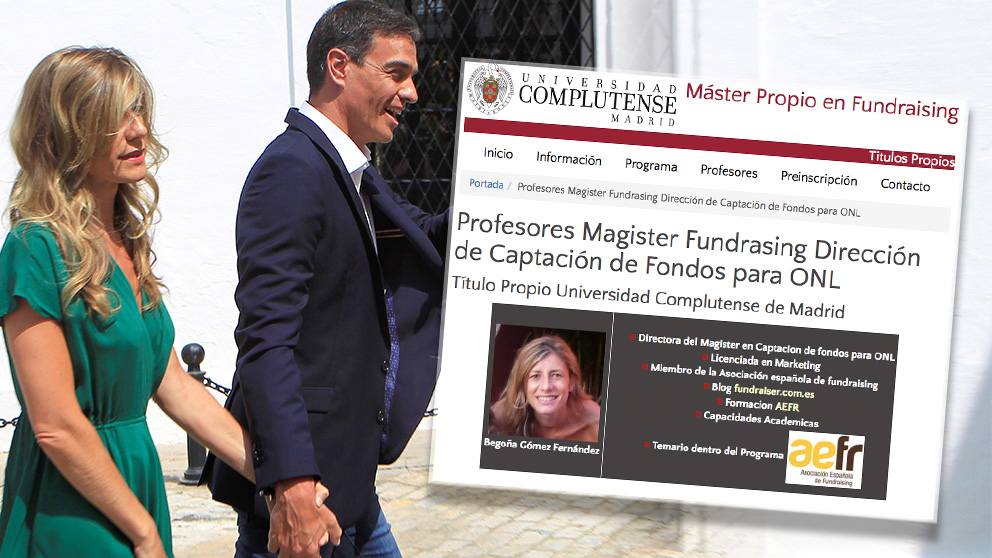 In addition, the Complutense does not hesitate to make the image of Sánchez's wife profitable. As published by OKDIARIO, the website on which the master's degree is promoted uses a photograph of Gómez, along with a group of former students, during graduation.
Gómez combines his teaching work at the University with the direction of the Africa Center of Business Institute (IE University). An appointment that, a few weeks after his arrival at the Palacio de La Moncloa, was also very controversial.