Laptops
14 computers at an irresistible price, the best of the MSI Days of PcComponentes and Xbox on offer
Welcome to our Computing and Gaming Bargain Hunt, a compilation where you will find the best bargains from the MSI Days of PcComponentes and Save VAT from El Corte Inglés, among others. Special attention in this edition to monitors and video games because there are great discounts. These are the best computer and gaming deals of the week that you can still buy.
computers
Although these days we have come to see it cheaper, it is still a great offer: ASUS VivoBook 15 OLED K513EA-L11141T at 699 euros on Amazon. Featuring a stunning 15.6″ Full HD OLED display, powerful Intel Core i7-1165G7 processor, 12GB RAM, 512GB SSD, Iris Xe Graphics, and Windows 10 Home. Ideal for heavy general use
ASUS VivoBook 15 OLED K513EA-L11141T – Laptop 15.6″ Full HD (Intel Core i7-1165G7, 12GB RAM, 512GB SSD, Iris Xe Graphics, Windows 10 Home) Black Indie – Spanish QWERTY TouchPad Keyboard
If you are looking for a "cucumber" to move the most demanding titles or for editing, the ASUS ROG Strix SCAR 17 G733ZW-LL103W It costs 2,487 euros in Worten, in other stores close to 3,000 euros. A beast with the latest Intel Core i9-12900H, 1TB SSD, impressive 32GB of RAM and a very powerful RTX 3070Ti graphics. With 17.3″ panel at 2560 x 1440 and Windows 11 out of the box

Asus Rog Strix G15 G513QR-HF012, with a 27% discount on PcComponentes, stays at 1,599 euros, also on Amazon. It mounts an AMD Ryzen 9 5900HX processor, 16GB of RAM, 1TB SSD and an RTX3070. With 15.6″ FHD screen at 300Hz and FreeDos as OS

300 euros cheaper than on Amazon Asus Rog Strix G15 G513QY-HQ008, now for 1499 euros in PcComponentes. In this case, it also mounts an AMD Ryzen 9 5900HX processor, with 16GB of RAM and a 1TB SSD, but in this case also with AMD graphics, an RX6800M. With 15.6″ Wide Quad HD panel (2560 x 1440 pixels) at 165Hz

400 euros less in the MSI GF63 Thin 11UD-271XEN in the MSI Days of PcComponentes, at 879 euros. Gaming laptop that stands out in its price range for its GPU, an RTX 3050Ti. With Intel Core i7-11800H/16GB RAM, 512GB SSD and 15.6″ FHD panel

It is one of the bestsellers of the moment due to its good value for money if you are looking for a computer that works for everything at a contained price: ASUS TUF Gaming F15 FX506HCB-HN200 at 779 euros in PcComponentes, 20 euros less than on Amazon. Balance by flag for general use and occasional gaming, with an Intel Core i5-11400H processor, 16GB of RAM, 512GB SSD, an RTX 3050 and a 15.6″ screen. With FreeDos as OS

Mac Mini with M1 Chip for 699 euros on Amazon, the lowest price since in El Corte Inglés the offer is still above 700 euros. With 8 GB RAM and 256 GB SSD, a good configuration for general use
Good discount and gift for him Samsung GalaxyBook2 (+ Samsung Galaxy Buds Pro), at 701 euros in El Corte Inglés. With Intel Core i5-1235U processor, 8GB of RAM, 512GB SSD, 15.6″ panel and 1.56 kg of weight, an interesting team for mobility
SAMSUNG – Galaxy Book2, 15.6 Inch Laptop with WiFi, Intel i5, Silver + Galaxy Buds Pro, Wireless Noise Canceling Headphones, Silver/Black
From 900 to 679 euros the HP Pavilion Gaming 15-ec2004ns on Amazon. Laptop with a 15.6″ Full HD panel, modern and powerful AMD Ryzen 7-5800H, 16GB of RAM, 512GB SSD and a veteran NVIDIA GTX 1650 4GB, ideal for intensive use and sporadic gaming

A fantastic team for demanding use and occasional gaming at a knockdown price: Asus TUF Gaming F15 FX506LH-HN042 at 679 euros, normally around a thousand euros. The best thing for its price is that it has 16GB of RAM and a dedicated GPU (although veteran and not very powerful), thus, it mounts an Intel Core i5-10300H, 512GB SSD and GTX 1650, with a 15.6″ FHD panel.

Ideal for general use pulling demanding thanks to that extra RAM: HP 15s-eq2003ns at 536 euros in El Corte Inglés. It mounts an AMD Ryzen 5 5500U processor, 12GB of RAM, 512GB SSD and with FreeDOS. If you need more power, the HP 15s-eq2068ns with AMD Ryzen 7 5700U and 16GB of RAM it is 618 euros, 30 euros less than in PcComponentes

Lenovo IdeaPad 3 15ALC6 at 519 euros in El Corte Inglés, an ideal laptop for general use ready to use. Mount a 15.6″ FullHD panel, AMD Ryzen 5 5500U processor, 8GB of RAM, 512GB SSD, AMD Radeon Graphics and Windows 11 Home in S mode

Another miniPC on offer at Amazon: MINIS FORUM DeskMini TH50 at 518 euros, down from 609 euros. With Windows 11 Pro as standard, Intel Core i5-11320H processor, 16 GB of RAM, 512 GB SSD, with ports such as triple HDMI, Thunderbolt 4, DisplayPort, Dual LAN 2.5G and 6 USB ports

Chollísimo for those looking for a basic laptop: HP 15S-FQ2150NS at 322 euros at MediaMarkt, it is usually around 400 euros. Good configuration for basic use, with 15.6″ FHD panel, i3-1115G4 processor, 8GB, 256GB SSD
monitors
The price of the 32-inch 4K monitor Samsung LS32A704NWU collapses at a minimum price, a high-resolution HDR10 model at 299.99 euros on Amazon and MediaMarkt
Samsung LS32A704NWUXEN – Monitor 32″ 4K UHD (3,840 x 2,160), HDR10, 5ms, Flicker free, HDMI, Display Port, tiltable
Low about 100 euros the spectacular Gigabyte AORUS FI32Q, at 498 euros in PcComponentes. A 31.5″ IPS gaming monitor with a 170Hz refresh rate, 1ms response time, 2560 x 1440 pixel resolution, with USB-C and G-Sync compatible

More than 100 euros discount on the MSI Optix MAG321CURVat 318 euros at PcComponentes, a gaming monitor with a 31.5″ 4K curved LED panel at 60 Hz compatible with HDR

50 euros less in the Samsung LS32AG322NUXEN, at 199 euros on Amazon. 32″ FullHD gaming monitor with 165Hz refresh rate, 1ms response time and FreeSync Premium compatible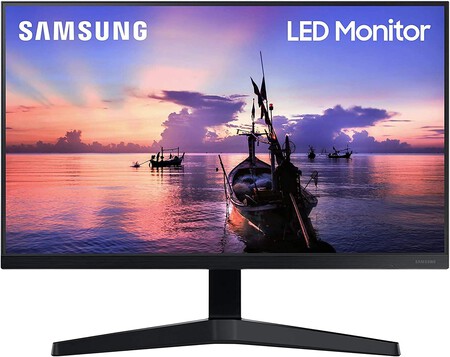 Samsung 27T350 at 139 euros in El Corte Inglés, a 27″ LED IPS monitor at 75 Hz with FHD resolution interesting for general use. The 24″ one is also reduced to 114 euros
Samsung LF27T352FHRXEN – 27″ Flat Monitor, Full HD (1080p, IPS Panel), Freesync, HDMI, Gaming, Black
Peripherals, hardware and accessories
If you are looking for image quality, look at the webcam HP 950 4K because it drops to 137 euros in PcComponentes, with a field of view of up to 103º and automatic focus
HP 950 4K Webcam All 4C9Q2AA#ABB
Asus TUF Gaming GeForce RTX 3070 Ti OC Edition with 8GB of GDDR6X local memory for 784.92 euros at PcComponentes, a beastly graphics card for demanding gamers

50 euros less than the GPU on Amazon Gigabyte GeForce RTX 3060 EAGLE OC 12GB LHR GDDR6 Rev 2.0at 449 euros in PcComponentes, a latest generation graphics ideal in quality price

HyperX Quadcast S for 127 euros on Amazon, a new minimum price for this condenser microphone with USB socket and RGB lighting ideal for podcasts

Crash at the minimum price for the Blue Yeti, at 93 euros on Amazon, a USB microphone for podcast and streaming

From 80 to 59 euros the Logitech Liftan ergonomic vertical wireless mouse for intensive use, with 4 buttons

If you are looking for a cheap multifunction printer, the HP DeskJet 2722e It is 53 euros in El Corte Inglés. With Wi-Fi connectivity and 6 months of Instant Ink printing
Consoles and video games
Thrustmaster T248 at 289 euros in El Corte Inglés, 20 euros less than on Amazon in this steering wheel and pedals kit suitable for PS5, PS4 and PC for a more realistic experience
Thrustmaster T248 Racing Wheel and Magnetic Pedals PS5, PS4, PC, HYBRID DRIVE
Xbox Series S offer: 275 euros on Amazon and MediaMarkt. The console without a disc reader pulls from the impressive catalog of the Microsoft store, Game Pass, etc. Designed to play at 1080p and 1440p. Do you want her with some game? Minimum price for the pack Xbox Series S + Forza Horizon 5on Amazon at 344 euros

Nintendo Switch + Nintendo Switch Minecraft for 315 euros at MediaMarkt. Of course, you have to enter the console (299 euros) and the game (25 euros) separately to benefit from the discount. In FNAC you have Nintendo Switch + Animal Crossing for 320 euros. What do you only want the console? You have it on offer at 279 euros in Worten

Nintendo Switch OLED offer on eBay at 339 euros on eBay. The new Switch OLED features improvements to the display, a larger stand with adjustability, and the integration of a LAN port in the dock.

Take a look at this section of El Corte Inglés because it has a 2 for 1 in LEGO videogames on different platforms (Star Wars: The Skywalker Saga is not included)

Xenoblade Chronicles 3 at 46 euros, one of the latest releases for Nintendo Switch drops to a minimum price

Another offer before launch: Fire Emblem Warriors: Three Hopes for Nintendo Switch for 46 euros on Amazon

Half price at El Corte Inglés Just Dance 2022 for Nintendo Switch: now for 29 euros, also at MediaMarkt and at Carrefour

Life is strange true colors for Nintendo Switch at a 58% discount in El Corte Inglés, now for 24 euros

Uncharted Legacy of Thieves Collection for PS5 in El Corte Inglés for 29.99 euros

Assassin's Creed Odyssey + Assassin's Creed Origins for PS4 for 29 euros in El Corte Inglés

Eye retro lovers because the mini console Game & Watch: Super Mario Bros. It is almost half price: 29.90 euros in El Corte Inglés. This model includes three games: Super Mario Bros., Super Marios Bros.: The Lost Levels and Ball (Mario version). Vintage design and digital clock with 35 different animations

Proof 1 month of Game Pass Ultimate just €1 (save €8.99), with over 100 games to choose from. You can take advantage of it even if you have already used this service, but not if your subscription is active right now

Until 2023 Google offers a 10 euro discount on the next game you buy on Stadia if you're a Stadia Pro subscriber, or ever have been
Keep Hunting Bargains
You can find more offers in other categories in our specific Hunting Bargains:
More offers
If you become Amazon Prime, you have a 30-day free trial (after 36 euros per year) to enjoy free fast shipping, priority access to offers, services such as Prime Video, Prime Music, Prime Reading and unlimited photo storage. Also, if you are a student, becoming a Prime Student costs half and you have a 90-day trial.
If after all this our Friday section falls short, you can be up to date and at all times informed of the main offers and news of Xataka Selection on our Telegram channel or on our profiles. Twitter , Facebook and Flipboard magazine. You can also take a look at the bargain hunting of Xataka Móvil, Xataka Android, Xataka Foto, Mundo Xiaomi, Vida Extra, Espinof and Applesfera, as well as with our colleagues from Compradición. You can see all the bargains they post on Twitter and Facebook, and even subscribe to their notices via Telegram.
At Xataka Selección we publish the best offers in technology, computing and electronics from the main internet businesses. Prices and availability may change after publication.
Note: Some of the links posted here are affiliate links. Despite this, none of the items mentioned have been proposed by either the brands or the stores, their introduction being a unique decision of the editorial team.